Q: Why did you choose to do a Boudoir Session?
A: I have been working really hard to love myself and my body. There is such a stigma around plus size women being sexy and I want to have a part in changing that. I wanted to empower myself and show myself that I'm beautiful, regardless of any "flaws" I may have. I needed to prove to myself that I'm worthy of all things, no matter my size.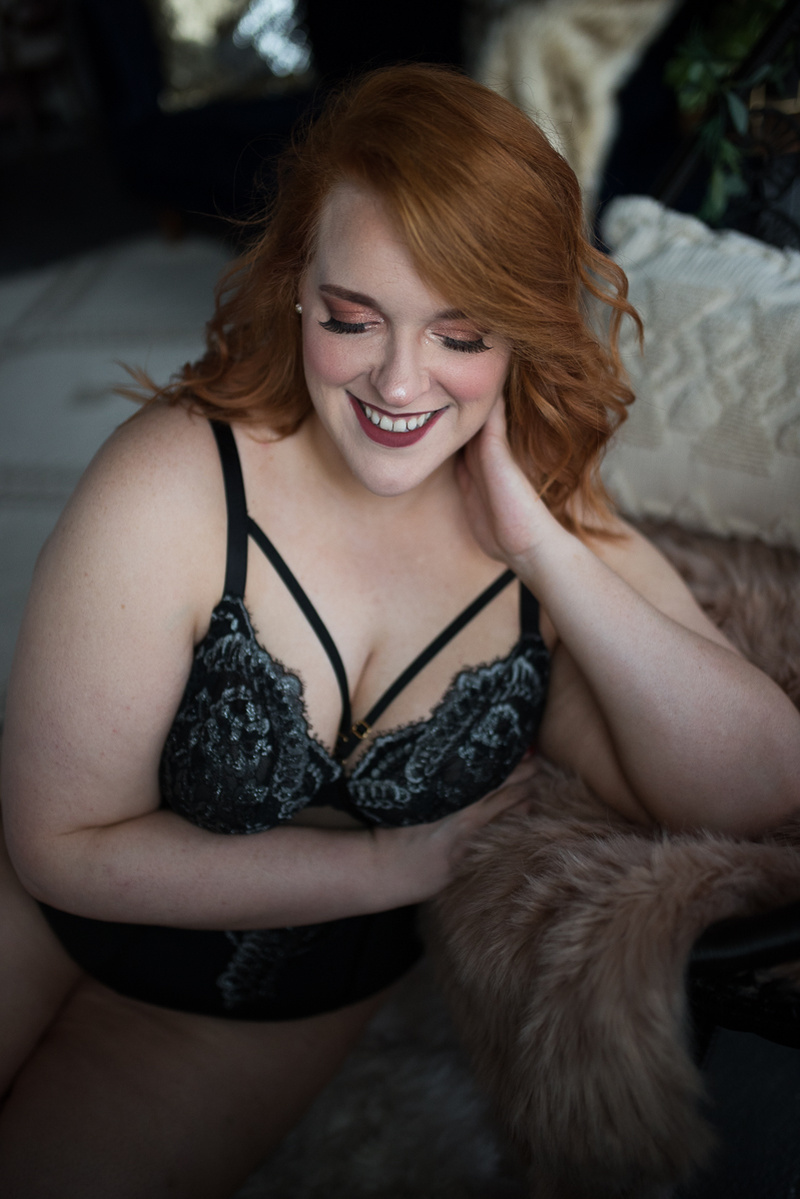 Q: What were your thoughts before booking the Boudoir by Billie Experience?
A: I was so excited. I had been looking into boudoir sessions for months and then my friend suggested Billie. Once I saw her work, I didn't have any reservations about booking because she's incredible. I knew it was a decision far out of my comfort zone but I knew that was all the more reason to go through with it.
Q: How did you feel BEFORE your session V.S. how you felt DURING / AFTER the Experience?
A: Before my session I was incredibly nervous, especially about my body. Once I met Billie and Marisa, I immediately relaxed. They made me feel like such a queen, especially Billie during the session. Billie has a way of making you feel beautiful and empowered. I left feeling like an entirely different person.
Q: How did you feel when you saw your photographs for the very first time?
A: I actually cried, full blown ugly cry. I couldn't believe that Billie captured so many beautiful pictures. It was amazing to see myself in that way… confident, elegant and sexy. I want to show everyone these pictures!
Q: What was your favorite part about the whole EXPERIENCE?
A: My favorite part of the entire experience had to be stepping out of my comfort zone for different poses. I was so proud that I didn't let my insecurities take over the session. There were times I felt really uncomfortable and awkward but thanks to Billie and Marisa, I knew the poses would be worth it in the end and they absolutely were!
Q: Did a boudoir session with Billie change the way you see yourself?
A: Absolutely. Especially after seeing my curves and rolls in the pictures, it made me love them all the more. My confidence has improved significantly and others have even noticed.
Q: What do you say to anyone thinking about booking a session?
A: Do it. Don't think twice about it. It's absolutely worth it. Boudoir gives you an entirely different view of yourself, one that changes your life. Loving yourself and your body endlessly makes the entire experience worth it.
THANKS FOR READING THIS BOMBSHELL'S FEATURED SESSION!
Your love & support makes this community so amazing & uplifting!

You're appreciated.

xo,
Billie

Ready to chat about your own EXPERIENCE?
It's your move, babe! Our team is here to help!